In October 2017 Brook RED and Brisbane North PHN invited Lived Experience leaders from across Queensland to a roundtable discussion about their experiences, concerns, and the potential for collaboration to address issues facing the Lived Experience workforce statewide.
In 2018, the Lived Experience Leadership Roundtable consulted with the Lived Experience workforce across Queensland to guage the level of interest in developing a peak body to represent and support them. This was progressed through the Building Foundations Forum; a sector-wide survey; and a QLEWN strategic planning day. Reports from these processes document consensus across the sector to create an independent, Lived Experience led, state-wide peak body driven by, and operated for the benefit of, people who work or volunteer in identified Lived Experience roles.
In August 2019, Brook RED employed a project officer to progress the establishment of QLEWN as an independent, statewide peak body. The Roundtable subsequently began meeting bi-monthly to guide the project until QLEWN has its own legal identity and is in a position to formally recruit its first board of directors.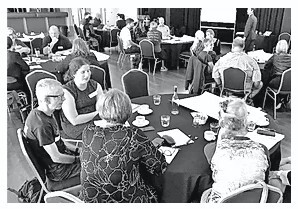 Priorities for QLEWN were identified through consultations in 2018 with the Lived Experience workforce.
1. Sector Leadership
Consult with and represent the Lived Experience workforce
Champion the Lived Experience workforce
Support the workforce
Promote networking
Disseminate information
2. Education and Training
Promote and facilitate accredited training and ongoing professional development
Promote and facilitate supervision and mentoring
3. Advocacy
Lead processes for enabling a collective voice for the Lived Experience workforce
Advocate to government and other decision-makers to advance Lived Experience workforce agendas
Influence and undertake research and policy development

QLEWN fully supports and advocates for the implementation of the Queensland Framework for the Development of the Lived Experience Workforce, released by the Queensland Mental Health Commission in 2019.